Alex Braidwood ist Instrumentenbauer – also Komponist!
Beispielsweise erweitert er die menschlichen Ohren um das, was die Augen können: Blinzeln.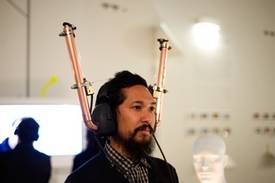 The Noisolation Headphones attempt to correct an oversight of our body: our ears can't blink.
We can't block out molesting noise as easily as we can shut off light or disturbing images. In 2004 already, Dr Michael Bull was observing that iPods and other m3 players were used to control their environment, and in particular to shield their users from the sound of the city.

The Noisolation Headphones are a critical investigation that transforms the relationship between a person and the noise in their environment. While worn, exposure to the noise is structured through a sequence designated by a composer which controls the behavior of the sound-prevention valves. The composer also determines what values are adjustable by the listener through the single knob built into the device. The headphones mechanically create a personal listening experience by composing noise from the listener's environment, rendering it differently familiar.
Ich will ja tatsächlich meinen, dass es noch einen beträchtlichen musikalischen Materialfortschritt gibt, wenn das menschliche Hörorgan erweitert wird. Da gibt's ja noch zB haufenweise Ultraschall-Frequenzen.
(via BoingBoing)